Faster, Better, More Expensive?
It's time to get a new laptop. You are looking forward to something lighter, with a faster processor and more storage. Should you get it with a conventional Hard Disk Drive (HDD), or one of those new Solid State Drives (SSD)? The marketing messages make SSDs sound like the next big thing, but are they worth the extra expense? What exactly are they anyway? And how are they different from conventional HDDs?
HDD Basics
Hard disk drive technology has been around for a long time, and its reliability continues to improve. Think of HDDs like magnetic versions of old-fashioned vinyl LPs. A "needle" moves across a platter covered with magnetic material, picking up the data stored on the surface of the disk. That same magnetic head "needle" also writes data to the disk. HDDs have become a lot smaller over the years – terabytes of data being stored on a disk just 2-1/2 inches in diameter is normal today.
Flash NAND Technology
SSDs, on the other hand, use a technology just like that used on SD and Compact Flash cards in your digital camera. Microscopic "cells" are designed to hold varying amounts of voltage to represent the binary on-off states captured magnetically in hard drives. These millions of cells are microscopically small, with data able to be held in a much smaller space than on HDDs.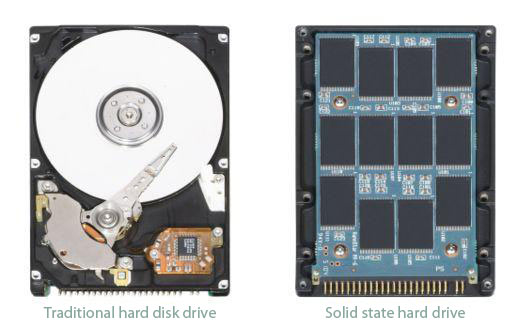 Why SSDs are Better Than HDDs
Apart from their size, the biggest difference between as SSD and an HDD is – there are no moving parts, making SSDs potentially more durable and reliable. With an SSD on board instead of an HDD, there are no worries about destroying your data if should you drop your laptop on the floor.
And because there is no magnetic head having to search for and move to the right location on an HDD's spinning disk to access desired data, SSDs can access data more quickly, meaning you can get your work done faster.  And without any moving parts, SSDs are cooler and use less power, meaning you get longer battery life in your laptop.
SSDs Achilles Heel
Given these benefits, why would you NOT want to upgrade to an SSD? The one major down-side to them is they can wear out faster than HDDs. Every time a cell in an SSD takes on a specified voltage to hold data, its ability to take and hold a charge in future is reduced, albeit an infinitesimally small amount.
This phenomenon is compounded with MLC (multi-level cell) SSDs, a widely-used technique that puts multiple voltage levels on each cell to increase storage capacity.
An SSD's life-span is determined by how much saving and re-saving is done, along with the size of the files being saved. Depending on how you use your laptop, 3-5 years might be expected before the symptoms of failure begin to appear.
Warning signs include extremely slow performance as the SSD struggles to find cells still with a good charge-holding capability – you will start to see longer save-times for documents, system lock-ups or crashes, or the "blue screen of death". These are the same kinds of signs of failure that also show up with HDDs. 
What SSDs are Good For
SSDs are not recommended for data intensive uses like digital media, graphics design,  downloading and erasing/re-writing movies, or any regular computing activity where large quantities of data are constantly being churned. HDDs are the better bet for these kinds of uses, despite them performing more slowly than SSDs. But for general office productivity, business documents, music downloads and other one-time writes, SSDs can typically last without difficulty until the natural end of life cycle of the laptop. 
Disk manufacturer Seagate has developed a hybrid hard drive with SSD-like flash memory to cache and store the most frequently accessed data. As the operating system is typically the most frequently accessed data on a drive, it ends up in flash memory providing zippy system performance bypassing the slower HDD.
Whichever drive you select, keep in mind manufacturers estimate that over a three-year period, one in every 50 HDDs or SSDs will fail. A disciplined data backup protocol is essential.
Share Your Tips 'n Tricks
Or If you have a burning question about how to leverage your IT for your business, please email us at tips@manawa.net.
If we select your tip or question for a future post, you qualify for your choice of:
A FREE 25-Point Business Technology Audit, or

A FREE IT Decision Consultation

, or

A One-Month FREE Trial of Manawa's Dedicated Support Service

 
Image Source here