Toronto's Top 10 IT Companies: A Closer Look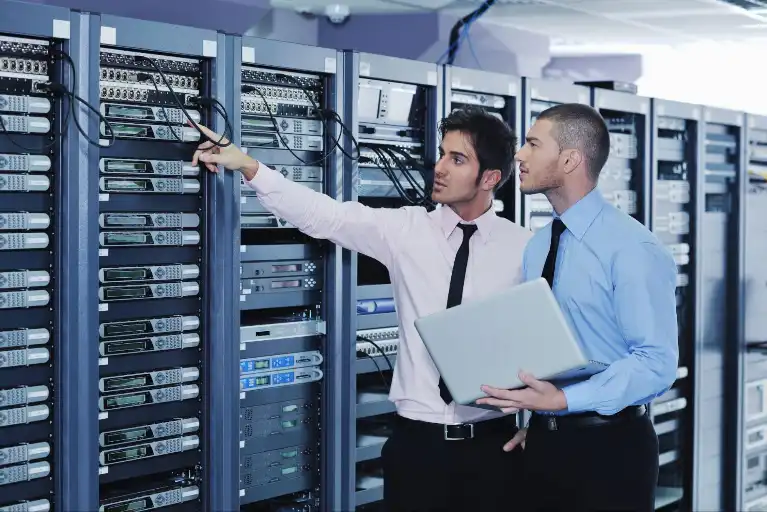 Toronto's thriving tech scene is experiencing a significant shift towards managed IT services. A testament to this is the escalating growth of the managed IT services market, which is predicted to reach $354.8 billion by 2026, according to a report from MarketsandMarkets.
Businesses are increasingly realizing the potential benefits of outsourcing IT functions to experts. In this article, we'll explore the top 10 companies that offer managed IT services in Toronto.
Why Toronto Businesses are Choosing Managed IT Services
For Toronto businesses, partnering with managed services providers is a strategic move towards digital transformation.
It allows them to stay competitive by leveraging the latest technology without investing heavily in IT infrastructure or managing a full-fledged internal IT department.
The shift towards managed services is driven by several factors - the need for improved operational efficiency, cost-effectiveness, access to specialized IT skills, and a proactive approach to cybersecurity threats, to name a few.
Criteria for Selection
In compiling this list, we've considered a broad range of factors. These include the companies' history of innovation, commitment to sustainability, and overall impact on the market.
The ability to provide tailor-made solutions, customer satisfaction, and a wide array of services were also crucial.
The Top 10 IT Companies in Toronto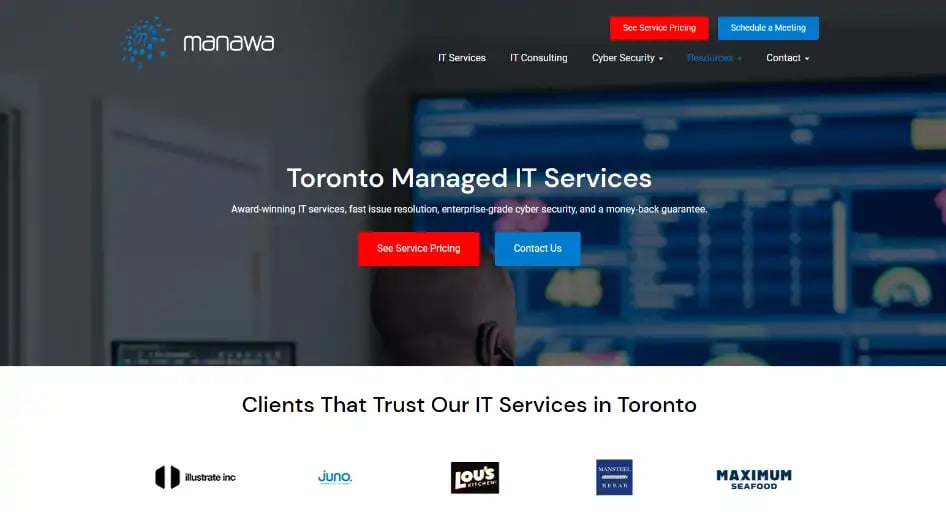 Manawa Networks has been a stalwart in Toronto's IT sector for over 15 years. Their client-first approach focuses on providing top-quality managed IT services tailored to the unique needs of every business.
Manawa offers comprehensive services, including:
IT support
Cybersecurity
Cloud services
Network support
Helpdesk services
Managed IT services
IT consulting and vCIO services
For added convenience, Manawa offers two distinct packages for their managed IT services:
Full Fixed Fee (FFF): A complete suite of managed services designed for companies that lack an internal IT team.
Point of Contact (PoC): A package designed to augment the services provided by a company's small internal IT team that can be customized based on a client's needs.
Manawa's major achievement is their commitment to helping businesses reduce IT-related issues by 53% within their first year of service, which increases operational efficiency and contributes significantly to the growth of their clients' businesses.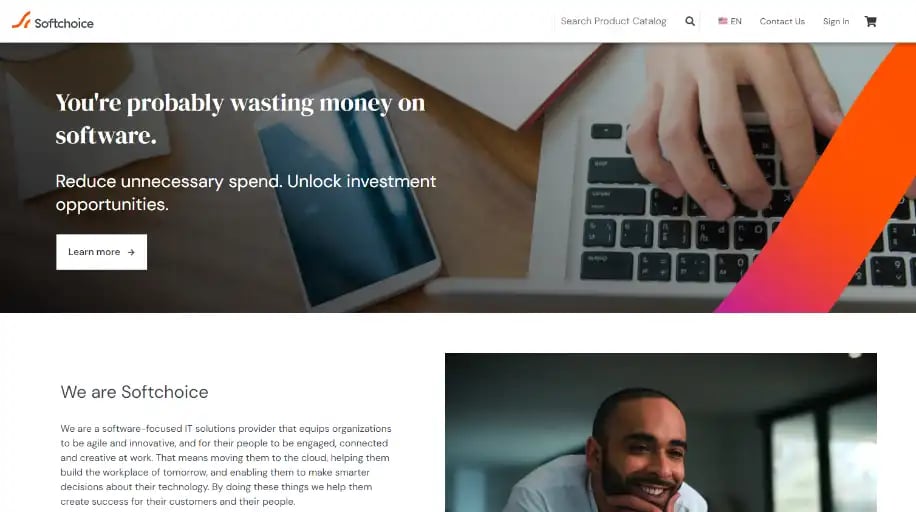 Founded in 1989, Softchoice has become one of North America's top IT solutions and managed services providers. Softchoice offers a wide range of services that help businesses optimize their tech investments including
IT consulting
Cybersecurity
Networking services
IT asset management
Detailed assessments
Cloud and data centre services
Collaboration and digital workplace support
Their significant achievements include recognition on the CRN Tech Elite 250 list and their dedicated efforts to bridge the digital divide.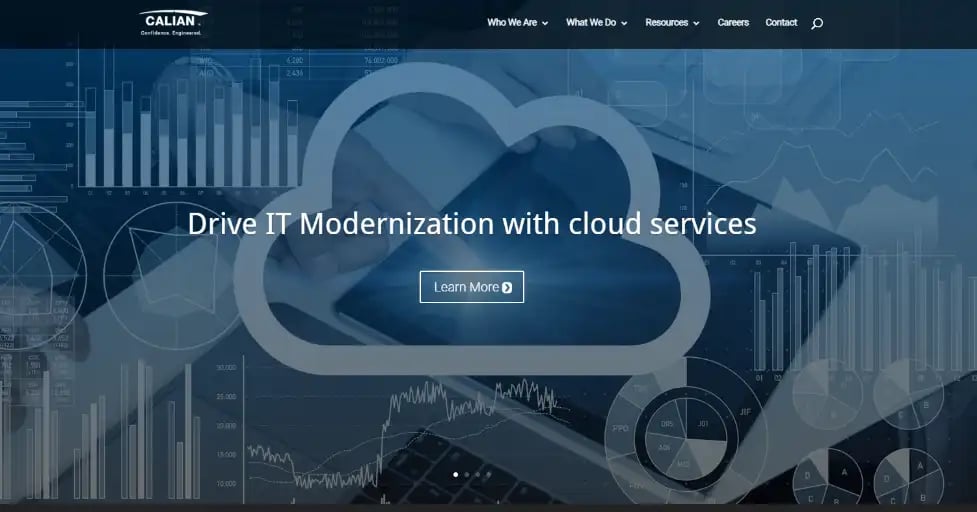 Established in 1997 as Dapasoft, Calian Health has made its mark in the health tech sector, delivering reliable and innovative solutions.
Their Corolar Cloud Suite won the 2020 MedTech Breakthrough Award. Dapasoft provides services like cloud computing, data integration, and cybersecurity designed explicitly for healthcare organizations.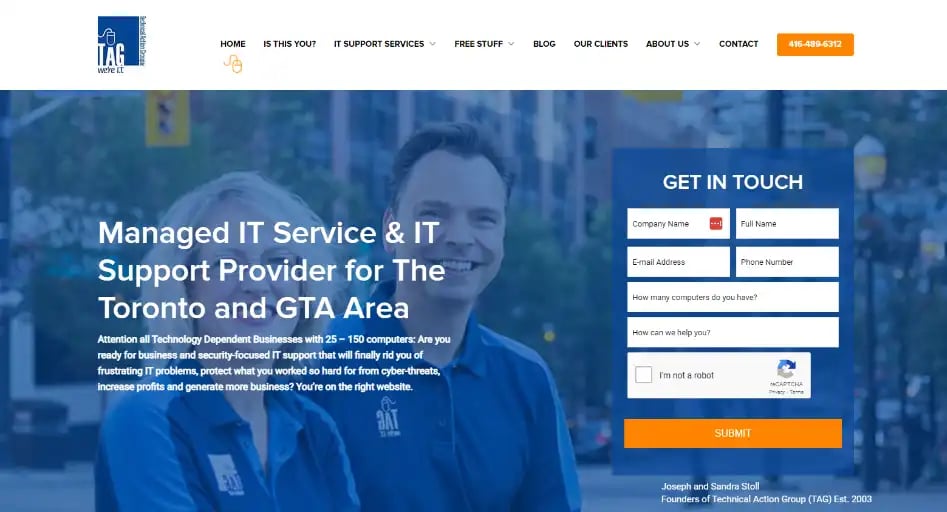 Since 2007, TAL Group has provided tailored recruitment solutions, aiding IT project delivery and mobile development.
They received the "Top Tech Recruiter Award" by LinkedIn in 2019. Besides recruitment, their services include executive search and digital recruitment across industries.
BlueCat Networks, founded in 2001, specializes in enterprise DNS solutions. In 2020, they won the Network Management Innovation Award for their unique Adaptive DNS™ system.
They offer DNS, DHCP, and IPAM (DDI) services, network automation and cybersecurity solutions.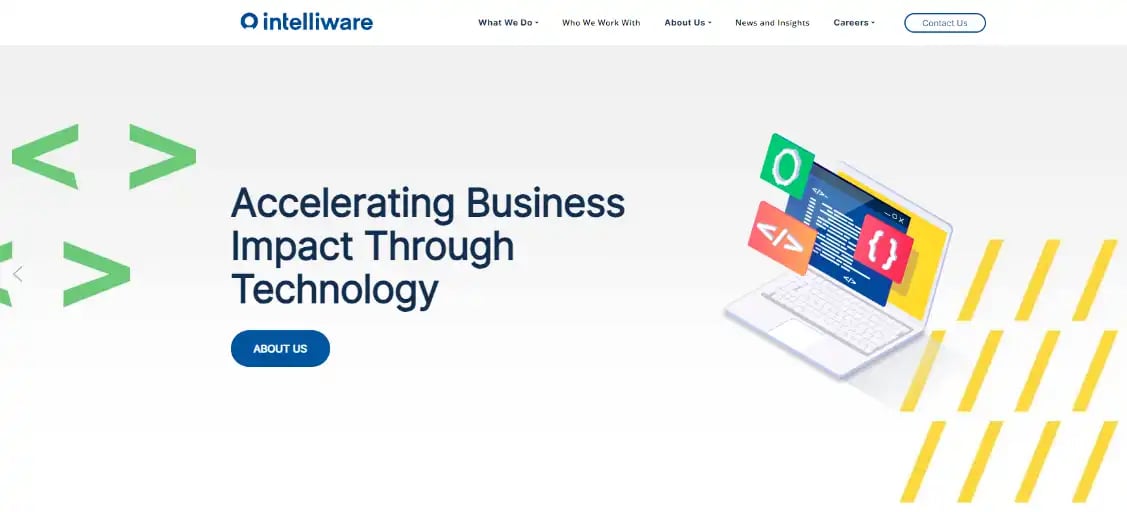 Founded in 1990, Intelliware Development is known for its agile approach to custom software development. They have been recognized as one of Canada's top small and medium-sized employers.
Their services range from custom software development and data services to agile transformation and cloud solutions.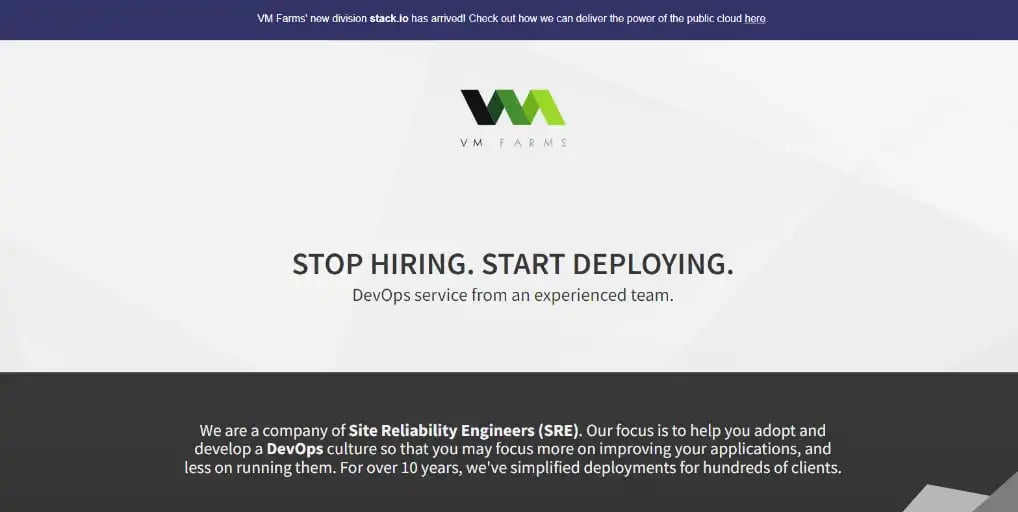 Since 2010, VM Farms has supported online businesses with 24x7 managed operations solutions.
They are recognized for their customer-centric approach and offer cloud hosting, database management, DevOps, and managed operations services.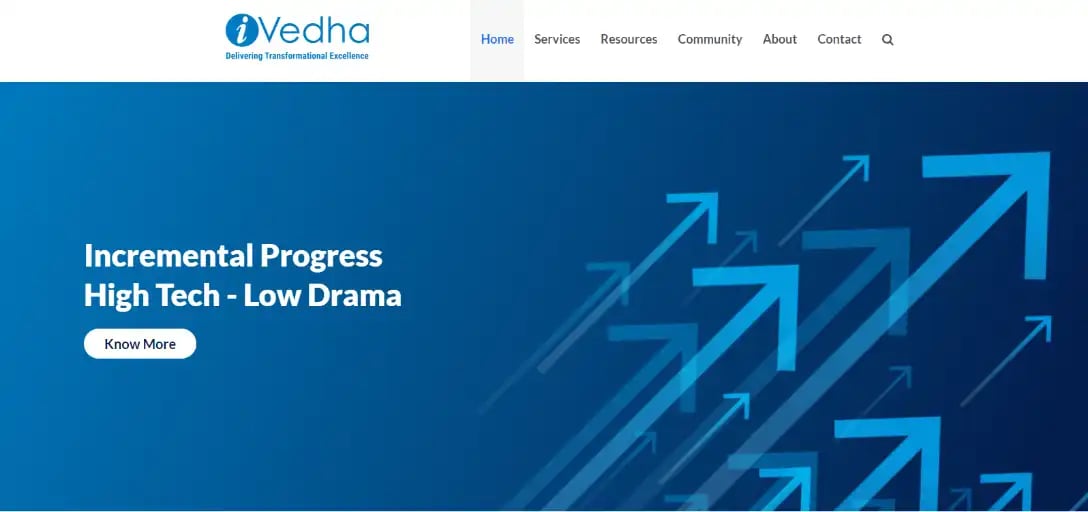 Founded in 2005, iVedha has helped businesses improve processes and systems through their managed IT services.
Their standout achievement includes their unique service model that combines global resources with local account management. They were also recently named on CRN's 2023 MSP 500 list, Tech Elite 250 lists, and one of CDN's Top 100 Service Providers.
iVedha offers a complete range of technology services, including managed services, IT consulting, infrastructure solutions, cloud solutions, DevOps, and product modernization.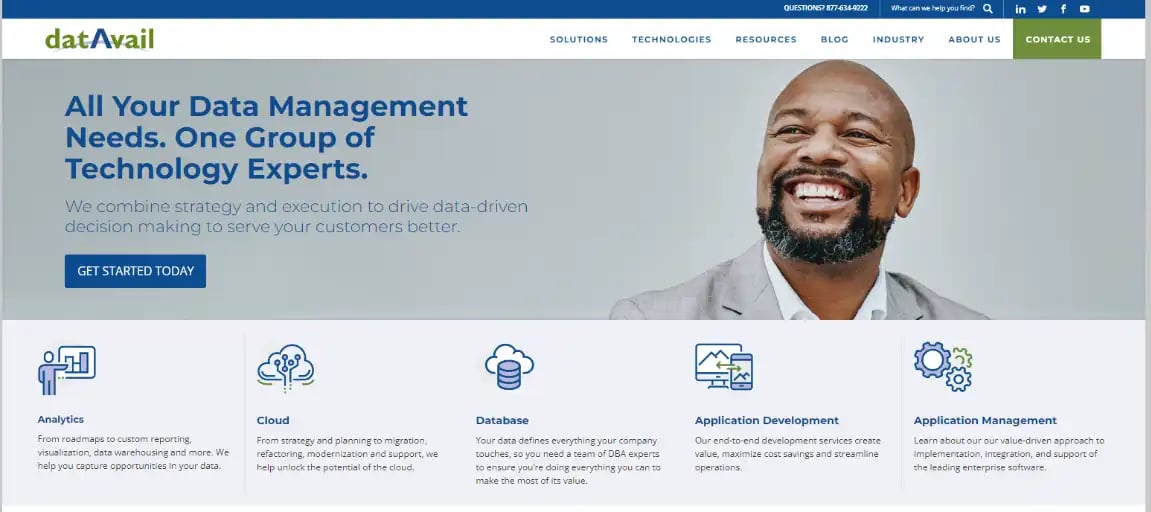 With over a decade in operation, Datavail is a recognized global data and database administration service provider.
They have won numerous awards for their Oracle EPM Cloud services. Their service offerings include analytics, business intelligence, database management, and cloud services.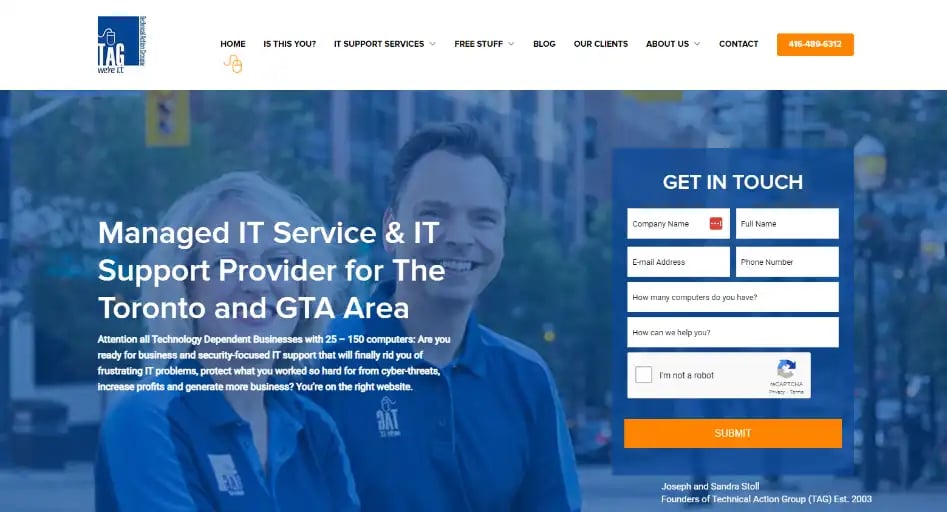 Established in 2003, Technical Action Group is a comprehensive technology solutions provider in downtown Toronto. They are committed to ensuring business owners have access to reliable and professional IT support services.
Their team of talented IT consulting professionals focuses on solving their clients' issues by learning about their businesses and not just their IT. They also stay updated on emerging technologies and trends to maximize their clients' productivity, profitability, and performance.
TAG offers various services, including managed IT, preventive maintenance, 24/7 network monitoring, backup and disaster recovery, dark web monitoring, free network audits, and free cybersecurity education for all their clients.
Keep Your Business Running Smoothly With a Trustworthy Toronto IT Company
The rise of managed IT services in Toronto showcases the city's dynamic tech landscape, with Manawa Networks standing out as a leading provider.
Our dedicated service and commitment to client success set us apart. If your business is looking for top-tier managed services, our team of IT specialists is ready to guide you.
Learn how we can propel your business forward by contacting us today to schedule a free consultation.
---